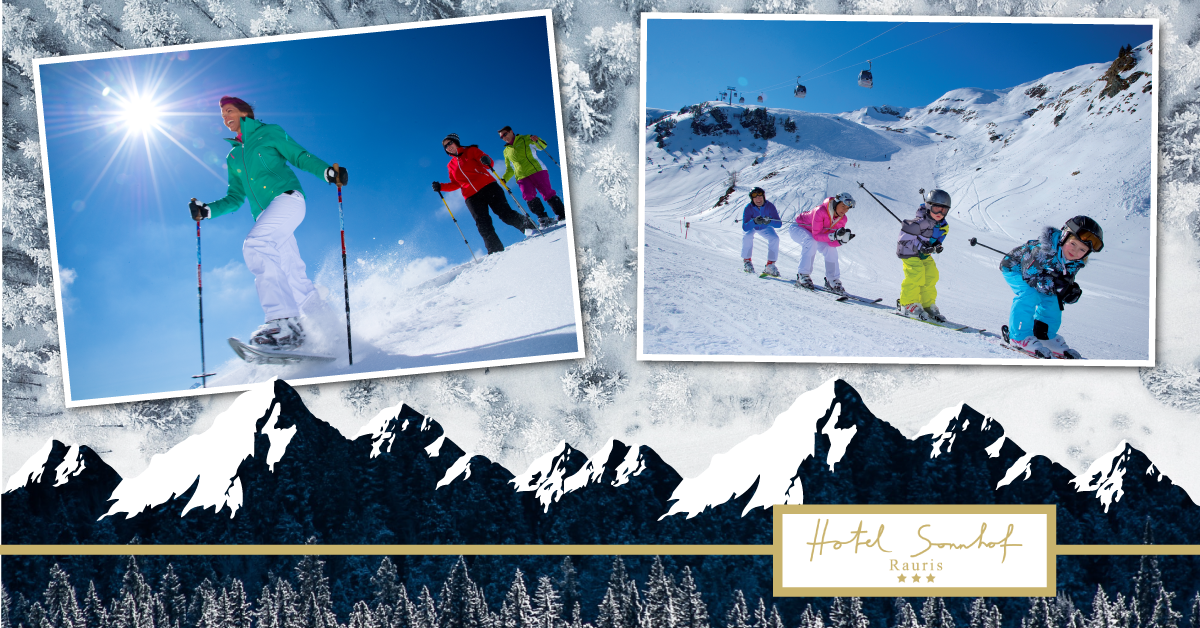 If you book our package in one of the following periods: March 8 – 15, or March 15 – 22, for a minimum of 4 nights, you will benefit of a pleasant environment, gorgeous landscapes, fantastic food and home-made brandy!
In Rauris Valley you can spend your time as you well wish: you can ski, sledge, take a sleigh ride, or simply relax with the help of the services offered by Hotel Sonnhof!
You can admire the stunning view from our wooden hot tub from the panoramic terrace, with a glass of mulled wine in your hand! Bring your family for several nights, and they will have some special surprises.
Send us a message: sonnhof@rauris.net
You can also call us: +43654420077,
WhatsApp, Viber:  +436503918896
Available between: March 8 – 15,2020 or March 15 – 22,2020
Ski days: March 8,2020 – March 22,2020
Package includes:
– 7 days / 6 nights / 6 SKI DAYS with half-board accommodation, for 2 adults + 2 children, in comfortable, 22-25 Sq m rooms with 2-4 beds, with extra-bed possibility, and a view over the Northern mountains,
– 2 children under 10 – FREE ACCOMMODATION, in extra beds
– 1 glass of cold Prosecco, if you register to our Newsletter on www.sonnhofhotel.at! Become a member of the Sonnhof Family!
1 bottle of cold Prosecco, if you LIKE our Facebook page and you post your Instagram pictures taken here with the #sonnhof.rauris hashtag

copious buffet-breakfast and -dinner,

1 x mulled wine / adult

1 x alcohol free cocktail / child

1 x fried trout / adult
4 – 6-day ski pass for the whole family (depending on the package)
– 1 x Après–ski with music in the hotel's garden (on Monday and Thursday)
1 x baked potatoes on the outside terrace

Free map
Free use of our Finnish sauna and inside swimming pool

Free parking

Free WiFi
Heated room for the skis and boots
Package price: 1280 € / 2 adults + 2 children under 10 / 7 days / 6 nights / 6 SKI DAYS
Package price: 850 € / 2 adults + 2 children under 10 / 5 days / 4 nights / 4 SKI DAYS
Prices for children / half-board and ski-pass included:
Ages 0 – 10: FREE
Ages 11 – 15: 210 € / pers / 6 nights
Ages 16 – 18: 599 € / pers / 6 nights
Ages 11 – 15: 150 € / pers / 4 nights
Ages 16 – 18: 299 € / pers / 4 nights
Other services:
1 extra night (with half-board accommodation): 130 € / 2 adults + 2 children (under 10)
Room with a view to the Southern and Western mountains in rooms with 2 – 4 beds: 10 € / night
– Family Comfort room (30-32 Sq. m), with a view to the Southern mountains, with 4, 5 or 6 beds: 30 € / night
– Apartment (49 Sq. m) for 6 or 10 pers., with 2 bedrooms, a living room, bathroom and a fully equipped kitchen: 80 €
– Pets: 10 € / night