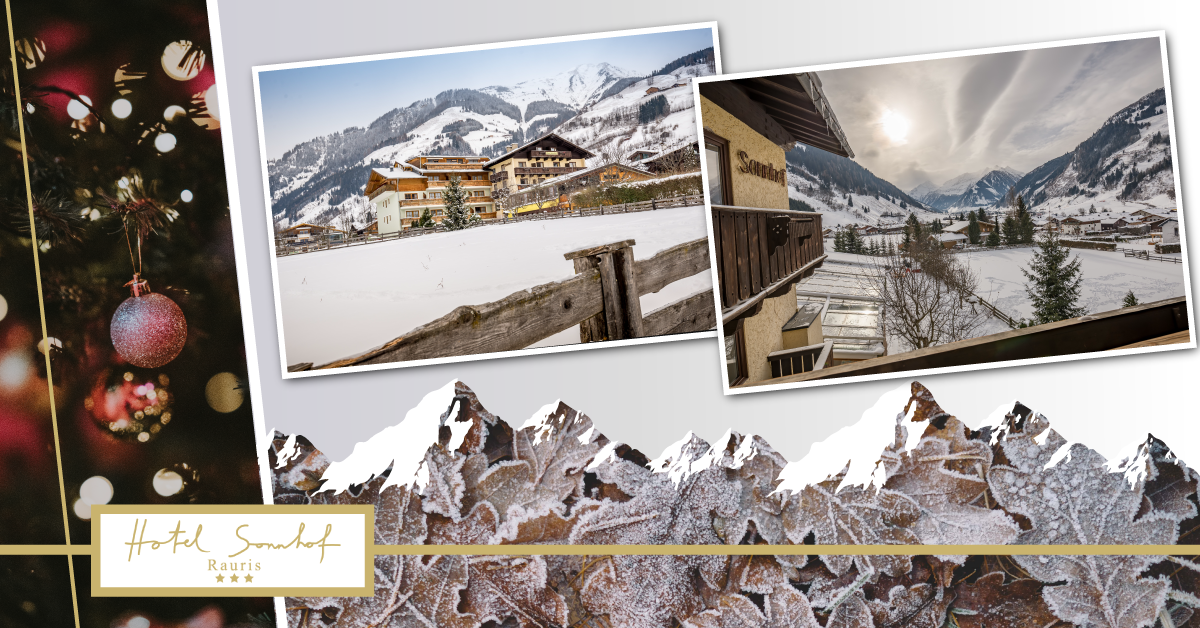 The best offer for this Winter! With Premium All Inclusive accommodation!
Win a pair of Fischer skis with the Advent Ski Offer – 2019 package! We will draw the winner on December 16, 2019 at 8 pm, at the restaurant – from among our guests who booked the 6 nights package.
Send us a message: sonnhof@rauris.net
You can also call us: +43654420077,
WhatsApp, Viber:  +436503918896
When the first snowflakes start to fall slowly from the sky, when the children are building snowmen at the foothills of the highest mountains, and the small streets get filled with the tempting perfume of the mulled wine, even the grumpiest men's hearts melt. Visit one of the most beautiful Christmas Fairs in Salzburg, or any other local small town, if you too are charmed by the Advent feeling.
Available for the period:  December 12 – 21, 2019
Ski days: December 13 – 20, 2019
Package includes:
 – 7 days/ 6 nights / 6 SKI DAYS, with PREMIUM ALL INCLUSIVE accommodation, for 2 adults + 2 children under 15, in comfortable, 22-25 Sq m rooms with 2-4 beds, with extra-bed possibility, and a view over the Northern mountains
– 2 children under 15 – FREE ACCOMMODATION, in extra beds
– 1 glass of cold Prosecco, if you register to our Newsletter on www.sonnhofhotel.at! Become a member of the Sonnhof Family!
1 bottle of cold Prosecco, if you LIKE our Facebook page and you post your Instagram pictures taken here with the #sonnhof.rauris hashtag

copious buffet-breakfast and -dinner,

1 sandwich to take-away / pers. prepared over breakfast

free coffee, tea and cookies every day between 16.00–17.00
Local beers, white and red wines, coke, orange sodas, syrups, between 10.00-20.00
20% discount on all services during your stay (except for accommodation and local tax)

1 x Stiegl Columbus beer / adult
1 x mulled wine / adult

1 x alcohol free cocktail / child

1 x fried trout / adult

1 x 1 scoop of ice cream / child

1 x solarium / package

1 x squash / package

Free spirits (vodka, gin, whisky, rum ) between 10 am – 8 pm

1 x 1 day Fischer skis testing / package

4 – 6-day ski pass for the whole family (depending on the package)

1 x Après–ski with music in the hotel's garden (on December 14 and 18)

1 x baked potatoes on the outside terrace

Free map
Free use of our Finnish sauna and inside swimming pool

Free parking

Free WiFi
Heated room for the skis and boots
Package price: 1390 € / 2 adults + 2 children under 15 / 7 days / 6 nights / 6 SKI DAYS
Available for the period: December 12 – 21, 2019       Ski days: December 13 – 20, 2019
Package price: 1090 € / 2 adults + 2 children under 15 / 5 days / 4 nights / 4 SKI DAYS
Available for the period: December 16 – 21, 2019       Ski days: December 16 – 20, 2019
Prices for children with Premium All Inclusive accommodation:
Ages 16 – 18 ani: 350 € / pers / 6 nights/ 6 SKI DAYS
Ages 16 – 18 ani: 250 € / pers / 4 nights / 4 SKI DAYS
Children over 19: 359 € / pers / 4 nights / 4 ski days, between: December 16 – 21, 2019
Children over 19: 499 € / pers / 6 nights / 6 ski days, between: December 12 – 21, 2019
Other services:
1 extra night accommodation (with half-board accommodation): 126 € / 2 adults + 2 children (under 15)
Room with a view to the Southern and Western mountains in rooms with 2 – 4 beds: 10 € / night
– Family Comfort room (30-32 Sq. m), with a view to the Southern mountains, with 4, 5 or 6 beds: 30 € / night
– Apartment (49 Sq. m) for 6 or 10 pers., with 2 bedrooms, a living room, bathroom and a fully equipped kitchen: 80 €
– Pets: 10 € / night